David Reynolds is on the fence regarding the raceability of the Gen3 Supercars after Grove Racing's first shakedown yesterday.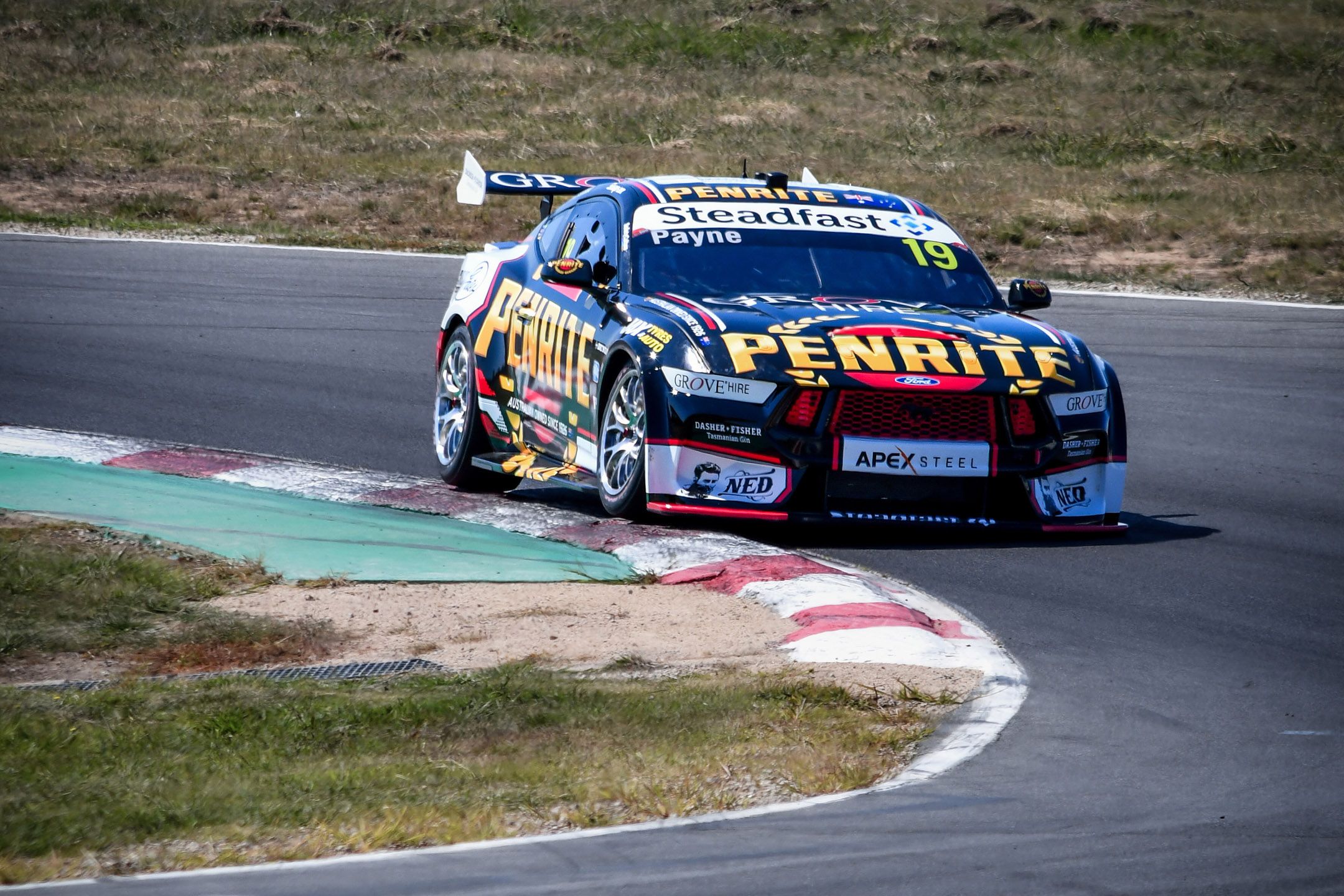 Reynolds was one of three Grove Racing drivers to share the team's first Gen3 Mustang at Winton yesterday along with teammate Matt Payne and enduro signing Garth Tander.
The trio covered around 80 laps of the Victorian circuit, most of which were trouble free apart from a wheel parting ways with the car during one of Reynolds' stints.
Fortunately there was no major damage despite the issue sending Reynolds off the road.
Reflecting on the test, Reynolds said he was very impressed with the Grove Racing build on the new car which, according to him, is extremely close to race spec.
"Overall, from a car build perspective, the team has done an amazing job," he said.
"We could pretty much race that car tomorrow. It just needs a helmet fan and some driver's side intrusion and everything else is sorted.
"The team has done an unbelievable job to get to that stage quicker than anyone else.
"The day ran pretty flawlessly except for the wheel falling off. They are looking into what happened there. It could be something very simple, it could be something more complex.
"But otherwise we had a great day. We all shared responsibility in the car and we did 80 laps all up, which is a lot for a shakedown. We made some improvements to the balance of the car, which was good."
What Reynolds did leave the test questioning, however, was the raceability of the new car.
Supercars has looked to improve the racing product with its new car by dumping most of the downforce and moving to a platform consisting of mostly control parts.
According to Reynolds the new car comes with its challenges, particularly in the terms of feel of the front end.
And while he's not ruling out the new cars producing better, closer racing, he is simply, right now, unsure.
"As far as driving goes, the car looks incredible and it goes incredibly fast," said Reynolds. "The acceleration is faster than the old car.
"But I think when it comes to braking and cornering, the drivers will be earning their money this year. The front end feel is a challenge.
"I don't know. Every car you drive can be tricky to race. I can see what they are trying to do by making everything the same, but where are the differences? What can you do to improve things and make life easier for you or harder for someone else?
"You want some freedoms to find time or lose time. You might get it right this weekend and wrong next weekend.
"But right now everything is quite similar so it's hard to know what will happen, and who will be fast, or what will transpire.
"Will we have the confidence in the car to pass the guy ahead? I don't know. Right now I don't, I feel like I'm passing myself out there."