Last Sunday at Phoenix Raceway Kyle Larson won his 10th race of the NASCAR Cup season, by winning the championship race of the Playoffs he is the 2021 NASCAR Cup Champion. Larson won his first NASCAR Cup title and is the 35th different champion of the series since it's inauguration in 1949.

Kyle Larson from Elk Grove in California was born on 31st of July in 1992 (29 years old) and started to race at a national level in 2012. Straight away he won the 2012 K&N Pro East championship with Rev Racing and made his debut in the Camping World (now NASCAR Trucks Series) with a Top 5 finish at Phoenix. In 2013 he stepped up to the Nationwide Series (now NASCAR Xfinity) with Turner Scott Motorsports; in his debut race he had an infamous crash at Daytona just before the finish line on the final lap, but would go on to finish 8th in the standings at the end of the year with 9 Top 5 finishes. In the same year Larson competed in 2 races in the Camping World series, he won his first race at Rockingham and finished second in the other race. After impressing in both support series of the Cup series he made his debut in the Cup Series with Phoenix Racing, however from 4 races his best finish was a 15th place at Homestead.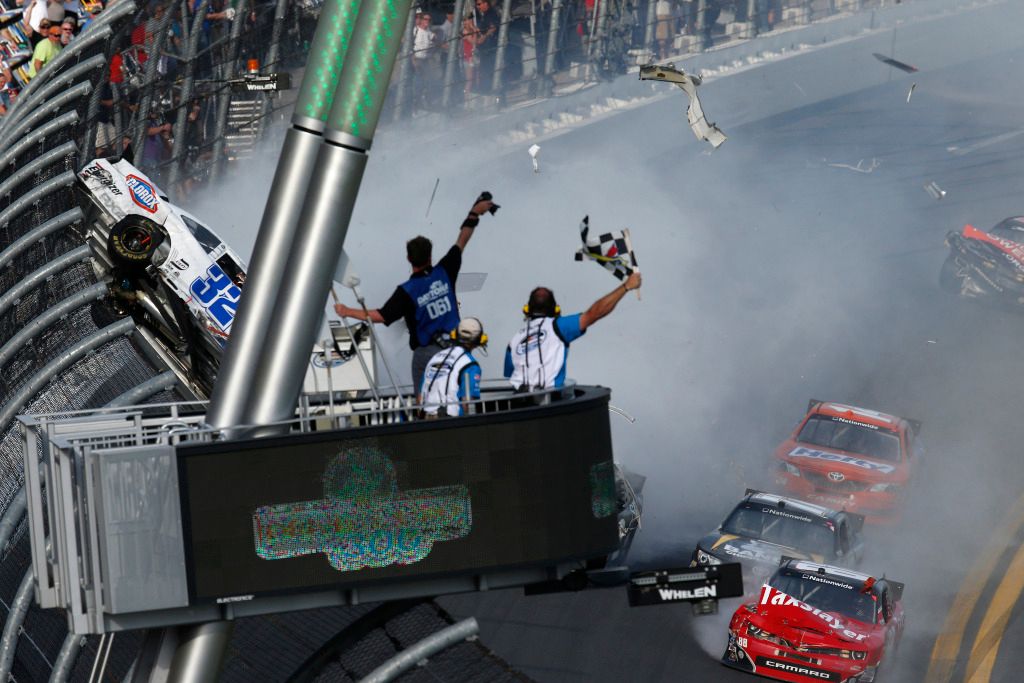 21-23 February, 2013, Daytona Beach, Florida, USA: Kyle Larson gets airborne over Brad Keselowski and Brian Scott crash (Motorsport Images)
From 2014 onwards his main focus would be the Cup Series with Chip Ganassi Racing. In his first year with the Ganassi team he finished 5 times in the Top 5 from the 36 races and finished 17th in the standings, but he had to wait until 2016 for his first win in the Cup Series. That first win came at the second Michigan race of the year where he had qualified 12th on the grid; in an eventful race, that had 13 different leaders, Larson won with a margin of 1.478s and had led most laps (41 of the 200).

Larson divided his racing activities over multiple series in the previous years, he even won the Daytona 24 Hours overall in 2015 together with Scott Dixon, Tony Kanaan and Jamie McMurray in a Chip Ganassi Riley DP-Ford. From 2017 his focus was mostly on the NASCAR series, he won 4 times in the Cup and 3 times in the Xfinity series. He didn't win at all in the 2018 Cup series but won 4 times in the Xfinity Series that same year.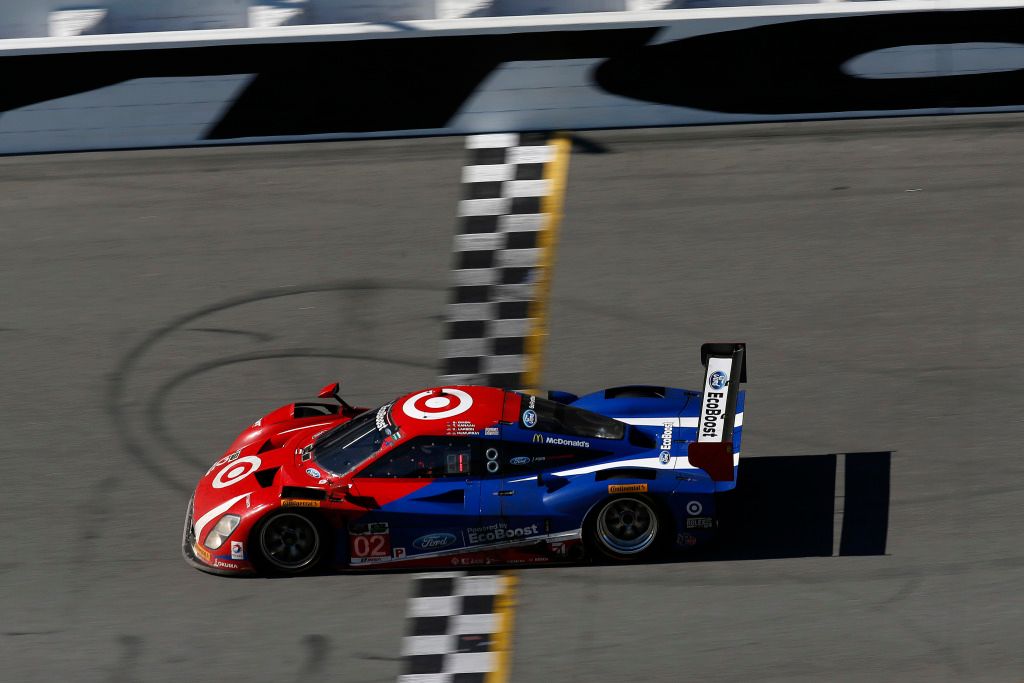 21-25 January, 2015, Daytona Beach, Florida USA. 02, Ford EcoBoost, Riley DP, P, Scott Dixon, Tony Kanaan, Kyle Larson, Jamie McMurray crosses the start finish line. (Motorsport Images).
2019 was for Larson a very consistent season results wise with only one win but eight Top 5 finishes and seventeen Top 10 finishes in 36 starts, brought him a sixth place in the final standings. Sixth was a career best at that point. 
Before the pandemic hit racing activities, 2020 started well for him with one Top 5 finish and three Top 10  finishes in 4 races. On April 12th, Larson made a comment during an iRacing event which included a racial slur while on air. NASCAR slapped and suspended Larson for that comment; an apology didn't help undo his suspension but he worked hard to repair his attitude and character. 
On october 28th 2020 Hendrick Motorsports announced Larson was to drive from them in 2021 and with 10 wins, 20 Top 5's, 26 Top 10's and an average finish of 9.08 with only 2 retirements there's no doubt he truly deserves the big 2021 championship cup.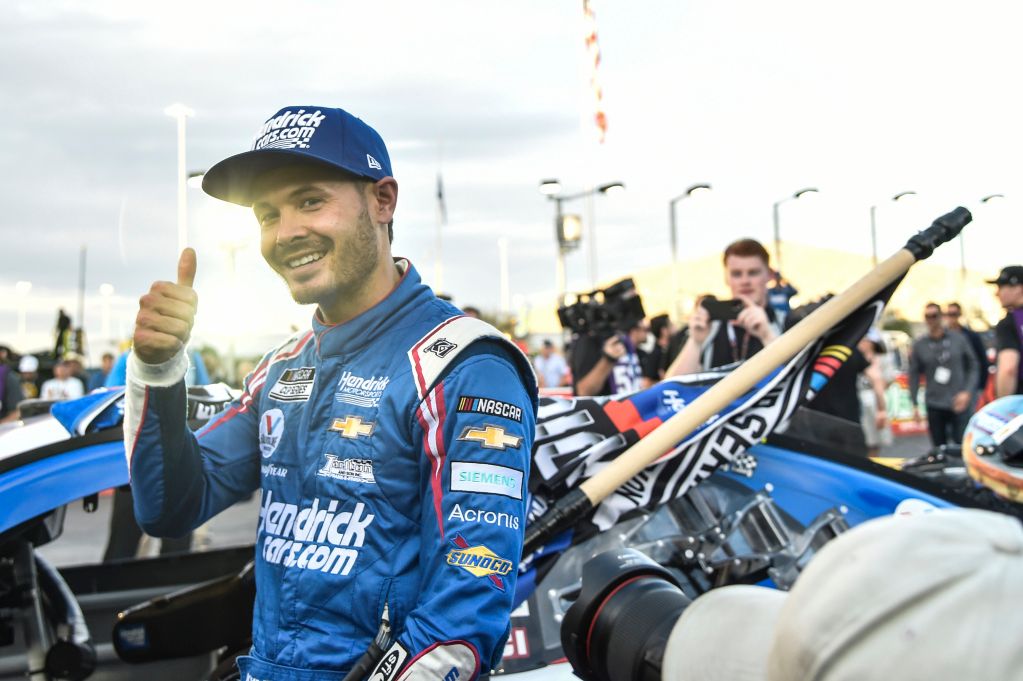 (Motorsport Images)
After his championship winning season, Kyle Larson has
•    won 16 times in the NASCAR Cup Series
•    76 Top 5 finishes
•    127 Top 10 finishes
•    1 Hat-Trick (Win, Pole position & Fastest lap) at Sonoma (2021) 
He's the seventh different champion since the introduction of the Playoffs in the NASCAR Cup Series.
He's the fourth champion from the state of California, the other three are: Jeff Gordon, Kevin Harvick and Jimmie Johnson.