The final race of the 2021 MotoGP season takes place this weekend at Valencia in Spain. Two out of the 3 titles have already been decided but the Teams Championship is still to be decided. Monster Energy Yamaha MotoGP has chance to overhaul Ducati Lenovo but it will need to see some drama from the Ducati drivers and a double podium finish to do that. Probably the spotlight during the weekend will not be on that battle but on Valentino Rossi (Petronas Yamaha SRT), as race 927 in the history of the series will mark the final race of Rossi's career.

Since 1999 there have been 22 MotoGP races on the 4005m long Valencia circuit, 21 times the race was named as the Valenciana Grand Prix but last year the first one of a double header it was named Gran Premio de Europa.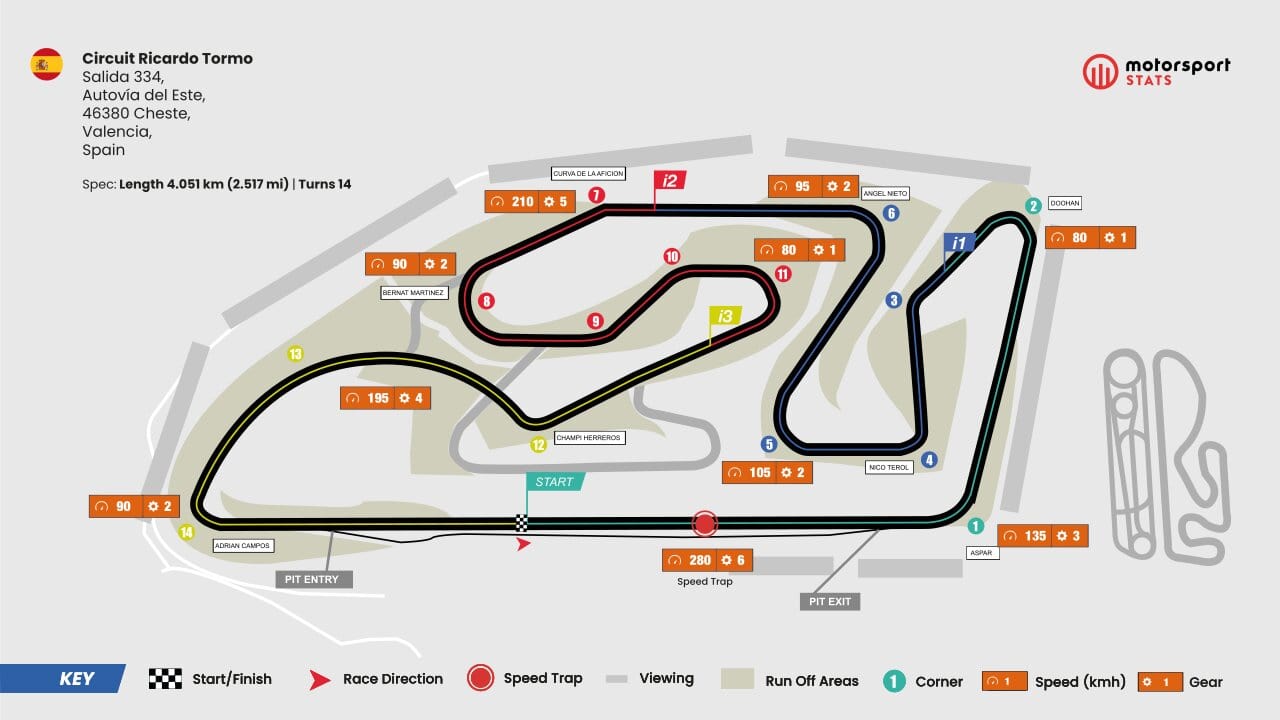 The most race wins on the Valencia circuit, is shared between Jorge Lorenzo (Yamaha) and Dani Pedrosa (Honda), each with four wins. Valentino Rossi won two times on Valencia, once with a Honda (2003) and once with a Yamaha in 2004. Other drivers with a race win from the current grid are Franco Morbidelli (2020) and Joan Mir (Europan GP – 2020). Marc Marquez won also two times at Valencia but won't start in the final race of this season because of vision problems following a concussion.
As with the race wins at Valencia, the most amount of podiums is shared between two drivers. Valentino Rossi and Dani Pedrosa both scored 8 podium finishes. Marc Marquez follows with 6 podium finishes, Casey Stoner and Jorge Lorenzo have each 5 podiums at the circuit. 
In 2019 this year's World Champion Fabio Quartararo finished once on the Valencia podium and he finished second after setting pole position on the Saturday. Runner up in the standings this year is Francesco Bagnaia, his best result at Valencia is an 11th place with Pramac Racing, in last year's Valenciana GP. Bagnaia didn't finish the European GP and withdrew from the 2019 Valencia race. Bagnaia's best result outside MotoGP is a fourth place in Moto2 in 2017.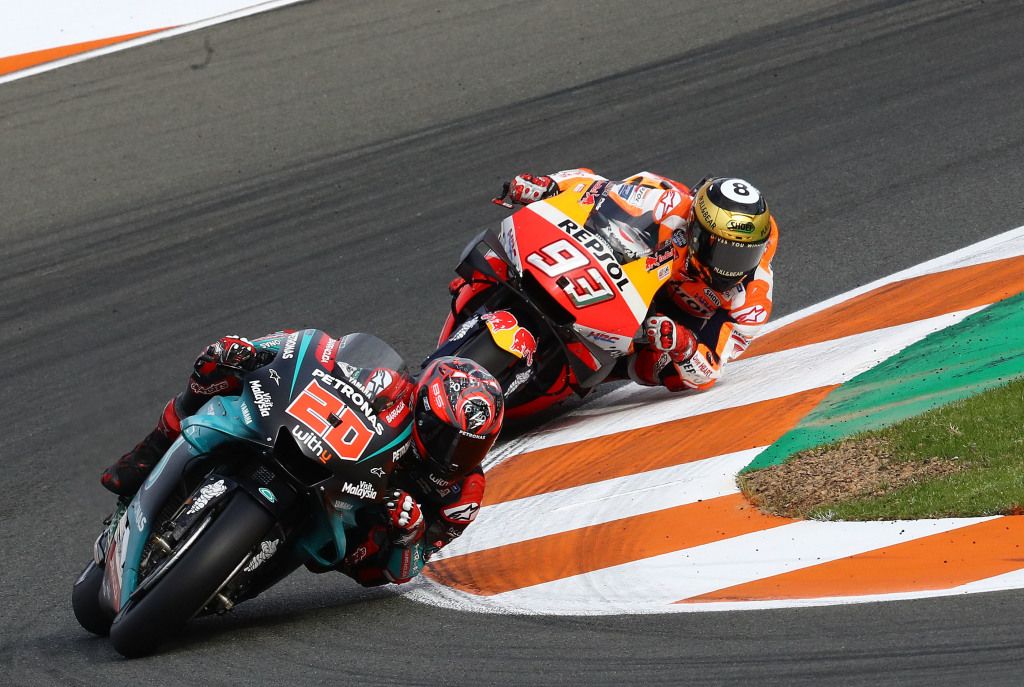 Fabio Quartararo, Petronas Yamaha SRT, Marc Marquez, Repsol Honda Team - 2019 Valenciana GP (Motorsport Images)
Looking at the pole positions on the Valencia track, it is Casey Stoner who leads the list with 4; Stoner started in pole between 2008 and 2011 but won only twice (2008 & 2011). Since 2016 the pole position on the Spanish track has gone to a different driver: 2016 – Jorge Lorenzo, 2017 – Marc Marquez, 2018 – Maverick Viñales, 2019 – Fabio Quartararo, 2020 race 1 – Pol Espargaró and  race 2 – Franco Morbidelli. With 'Pecco' Bagnaia on a current pole position streak of five, can he continue the different pole sitters stat and turn the pole streak into six? 
Sunday race will be held over 27 laps (108.1 km), untill 2017 the race was 30 laps long (120.1 km) but in 2018 the race was stopped after 14 laps due to bad weather conditions.
In his 372nd start after winning 7 times the MotoGP Championship, 89 wins, 55 pole positions and 199 podiums (an all-time best) Valentino Rossi's career in MotoGP will come to an end, but wouldn't it be fairytale end if he could change the 199 podium finishes in a 200?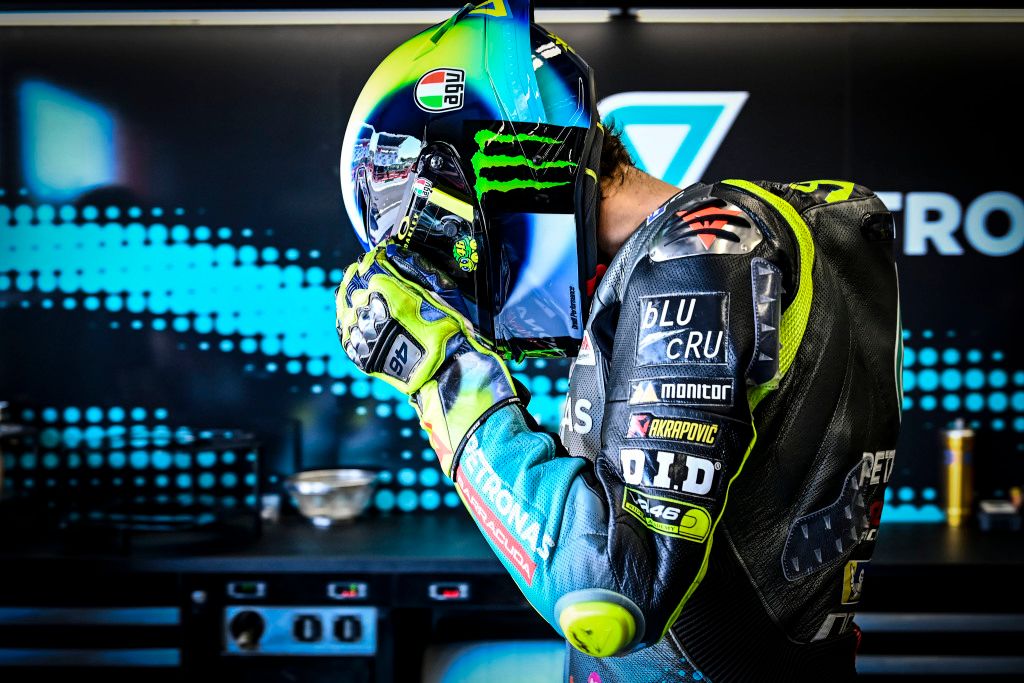 EXTRA
Pole Position Record: 2016 – Jorge Lorenzo (Yamaha) 1'29.401 (161.2 km/h)
Fastest Lap Record: 2019 – Marc Marquez (Honda) 1'31.116 (158 km/h)
GP with most race leaders: 2012 with 4 diferent leaders: Pedrosa, Lorenzo, Aleix Espargaró and Andrea Dovizioso.