With victory in the Russian Grand Prix, Lewis Hamilton scored his 100th win. Many of those wins have come with impressive winning margins. Read on as we take you through his five largest margins of victory.
2021 Portuguese Grand Prix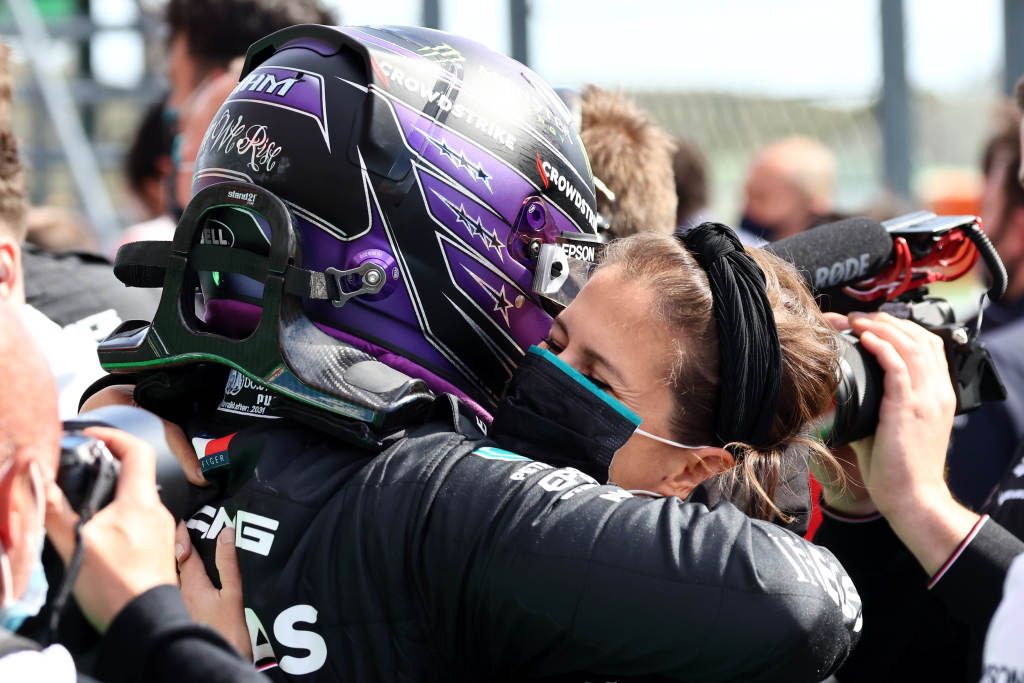 Lewis Hamilton celebrates with his team in parc ferme at the Portuguese Grand Prix - Motorsport Images
Hamilton started in P2 behind Valtteri Bottas, then dropped to P3 behind title rival Max Verstappen after a lap seven Safety Car restart. The 7-time champion fought back brilliantly to overtake Verstappen on lap 11 then hunted down Bottas.
Hamilton made the move on his Mercedes team-mate on lap 20 to take the lead. Hamilton's pace was relentless and neither Verstappen nor Bottas had an answer to the Brit as he crossed the line nearly half a minute (+29.148s) ahead of Verstappen – the Red Bull driver had stopped late in the race for fresh tyres in order to fight for the extra fastest lap point.
2014 British Grand Prix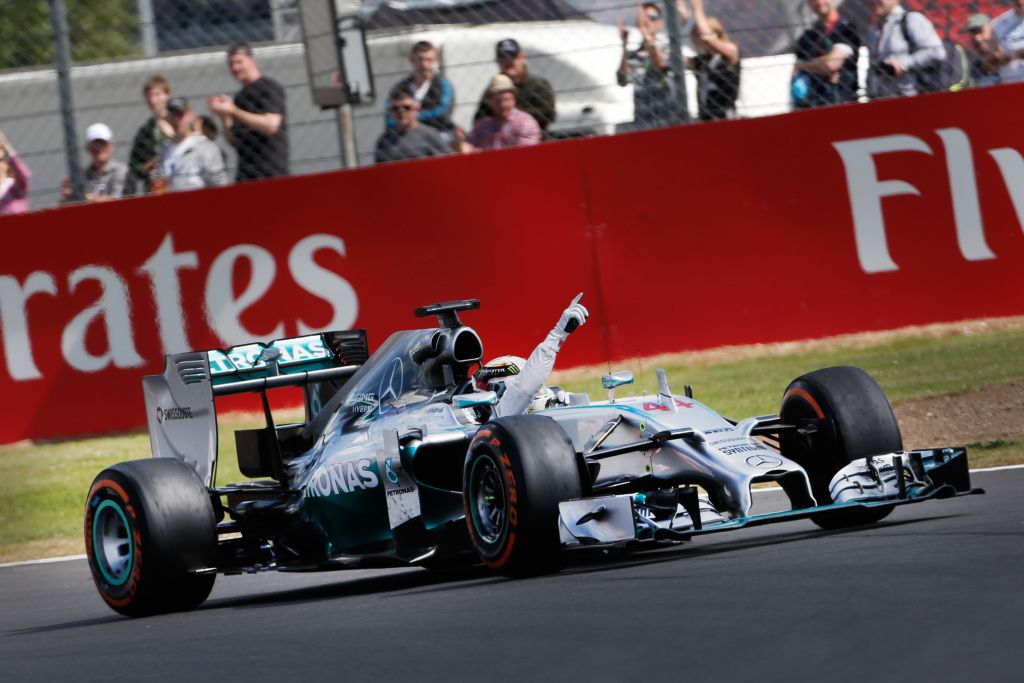 Lewis Hamilton at the 2014 British Grand Prix - Motorsport Images
Hamilton started his home race from a disappointing sixth place following qualifying troubles and expected a fight to grab his second Silverstone win. As it transpired he needn't have worried given the sheer speed of his W05, blasted through those ahead of him to sit second behind team-mate Nico Rosberg after just a few race laps.
In the end reliability robbed the crowd the chance to witness Hamilton battle Rosberg after the German's gearbox gave up on lap 28. Hamilton was on the quicker hard tyres at the time of Rosberg's failure and catching him at around 1s per lap.
Eventually Hamilton crossed the line 30.135s ahead of the Williams driven by Valtteri Bottas. A new era of British Grand Prix domination from Hamilton had begun.
2020 Turkish Grand Prix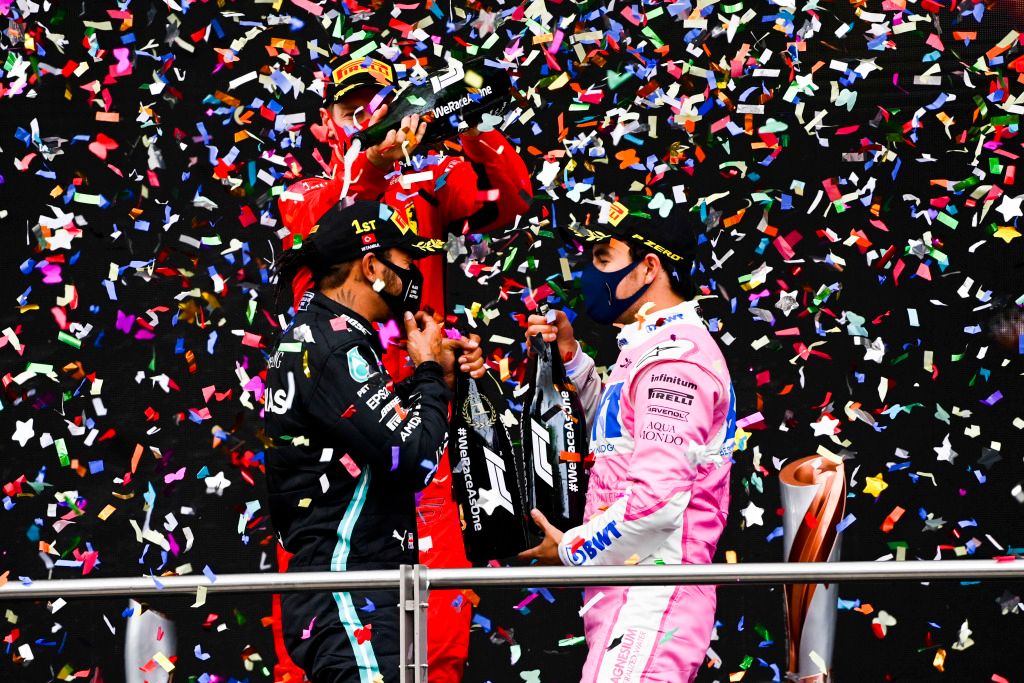 Lewis Hamilton celebrates his 7th world championship title with podium finishers Sebastian Vettel and Sergio Perez - Motorsport Images/Sutton
This was one of Hamilton's finest wins and the one which brought him a record-equaling seventh world championship title.
Starting down in sixth place following a mixed-up and wet qualifying session, Hamilton had a lot of work to do before he could take his 10th win of 2021. A brilliant opening lap saw him rise to third, however he soon dropped back down to sixth after making an uncharacteristic error at T9.
Hamilton and Mercedes then played a strategic masterclass after choosing to change intermediate tyres just once, with Hamilton driving sublimely to pull away from the Racing Point of Sergio Perez at a rate of knots. Eventually Hamilton crossed the line over half a minute (+31.633s) ahead of the Mexican. Bottas could only finish P14 after spinning six times across the 58 laps.
2021 Russian Grand Prix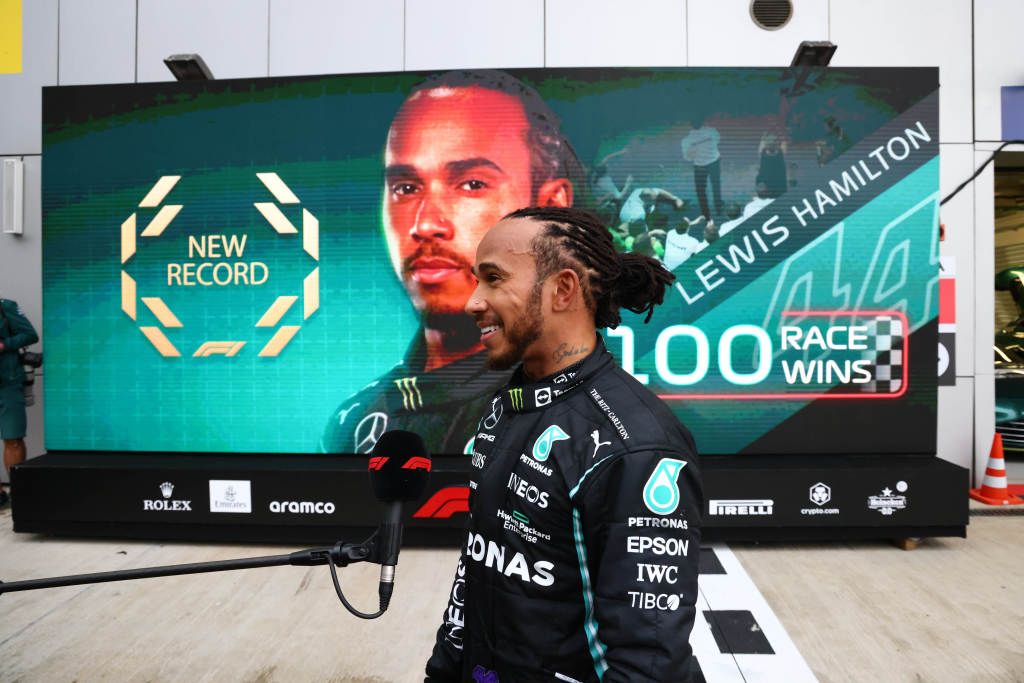 Lewis Hamilton stands in front of a screen showing his 100 race wins achievement - Motorsport Images
Hamilton started the Russian Grand Prix from P4 after crashing twice in qualifying, once on his final flying lap. Title rival Verstappen would start from the back of the grid following engine penalties, so Hamilton was looking to gain as many pints as possible.
A rough start saw him slip down the order briefly. Hamilton then methodically made his way back up the order and was in second place behind Leader Lando Norris in the closing phase of the race. Then the rain came.
Mercedes made the call for Hamilton to pit for intermediate tyres, McLaren and Norris did not. As a result Hamilton romped to victory a huge 53.271s ahead of a resurgent Verstappen, who had also made the right call for tyres. It was only the third time in Hamilton's career that he had won a race from fourth place om the grid.
2008 British Grand Prix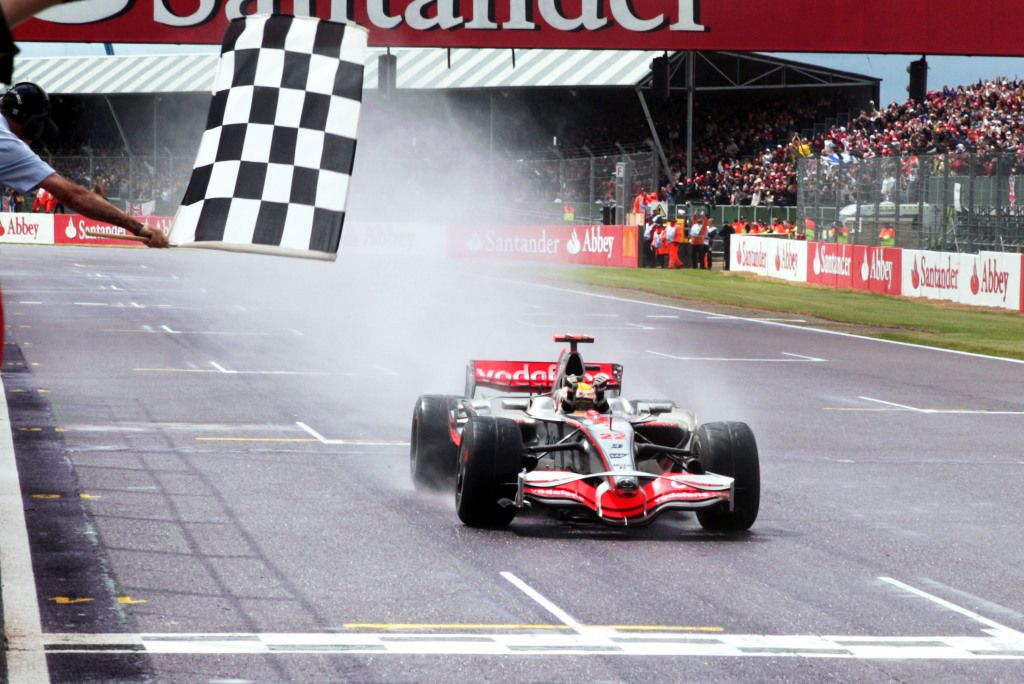 Lewis Hamilton crosses the line to take his first British Grand Prix victory in spectacular style in 2008 - Motorsport Images
It was a performance of a generation. Like Russia 2021, Hamilton started the 2008 British Grand Prix from fourth place. Just like Russia 2021, in front of him was a front row comprised of drivers who had never won a race before. Just like Russia 2021, it rained.
Hamilton dispatched of Kimi Raikkonen and Mark Webber on the opening lap and quickly set his sights on snatching the lead from McLaren team-mate Heikki Kovalainen. It was mission accomplished by the end of lap five, after which nobody saw Hamilton again for the rest of the afternoon.
McLaren called the strategy right and put Hamilton on fresh intermediate tyres when he stopped for the first time on lap 21. Ferrari chose to keep Raikkonen on his used set and as the rain came down harder, he had no answer to the thunderous pace of Hamilton.
The young Brit was pulling away from the field at a truly outstanding six seconds a lap. By the time he crossed the line to win in front of a delighted home crowd, he was 68.577s ahead of Nick Heidfeld. It was his greatest victory.