The Circuit of the Americas (COTA) threw yet another strategic thriller on Sunday with Max Verstappen edging out Lewis Hamilton in a closely contested battle in Texas. Hamilton snatched the lead after a brilliant start off the line, but it was Verstappen and Red Bull who had the last laugh as their well-timed pit strategy earned them a double podium. Let's take a look at the numbers from that tense United States Grand Prix.  
Max Verstappen's impressive defence in Austin brought him his 18th career win and his first one on US soil. It was also his fourth victory in the Americas, having previously won in Mexico and Brazil. Interestingly, all the races at COTA have been won from the front row.
It was the 33rd podium with Honda engines for Verstappen, who races with the same number. Only Ayrton Senna has more podiums with the Japanese manufacturer (56), a record which won't be broken anytime soon with Honda's imminent departure from the sport after 2021. The Dutchman led the bulk of laps in Austin taking his season tally to 504 of 990 raced laps. Although 17 other drivers have led over 500 laps in a year before, only once has a driver failed to win the championship - Lewis Hamilton in 2016.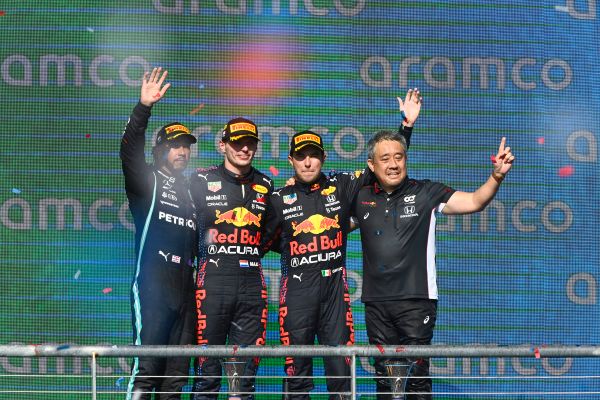 Sergio Pérez registered his fourth podium of 2021, the most he's accumulated in a single year. His previous best was three podium finishes in 2012 with Sauber. Verstappen and Perez's joint podium appearance meant Red Bull became the fifth team, after Ferrari, McLaren, Williams and Mercedes, to reach the landmark of 200 podiums in Formula 1. A complete team effort, it was also the first time they've taken consecutive double podiums since Malaysia-Japan 2017. Quite a successful weekend for the team that had led just nine laps at COTA in the hybrid era prior to Sunday.
Mercedes walked into the event as firm favourites but had to settle with P2 and P6 eventually. Their leading driver, Lewis Hamilton, has been a podium regular at this venue since 2014 but his last triumph here came in 2017. The Brit continues to be the only driver to have completed 100% of all racing laps at COTA since the circuit made its debut on the calendar in 2012.
Ferrari's Charles Leclerc drove a lonely race in fourth, thus scoring for the fifth time in six races. Leclerc has an interesting relationship with the number '4'. It's his most common starting (12) and finishing (12) position in Formula 1. He has started and finished in the same position in three races this year - Imola, Barcelona and Austin. In fact, he started and finished fourth in the last United States Grand Prix as well. Carlos Sainz scored for the 10th successive time, the longest active streak on the grid and also of Sainz's career.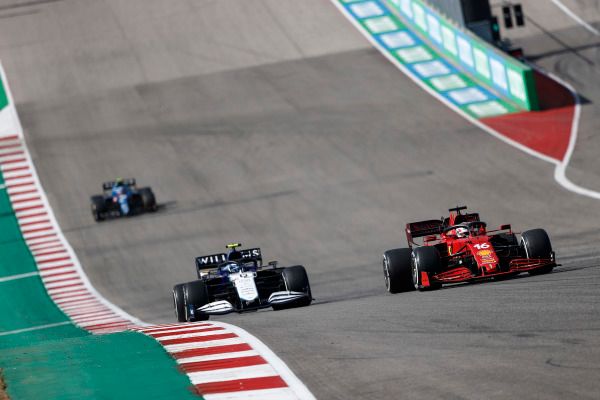 Daniel Ricciardo had an enjoyable time in Texas on and off the track. The Aussie who looked to be struggling with his McLaren going into the summer break seems to have found his groove in the second half of the season. He finished fifth in Austin and has outraced Lando Norris in four of the last six races. 
With a P9 finish, Yuki Tsunoda would be elated to score his first points after the summer break. His teammate, Pierre Gasly, had a forgettable race after being forced to retire with a suspension problem. The Frenchman is yet to score points in three outings at COTA and coincidentally, suffered a suspension-related retirement in the last United States Grand Prix as well. After a brilliant start to the season, AlphaTauri have endured a difficult few races, collecting just 10 points in the last four events.
Alpine had scored in each of the previous 15 races but went home without any points this weekend. Esteban Ocon was called in to retire on lap 40, while Fernando Alonso pulled into the pits a few laps later citing rear wing damage. It was the French team's first double-DNF since the 2019 German Grand Prix. Alonso, who was involved in a tight battle with Kimi Raikkonen on track, has retired from his previous three races in Austin and will hope to improve his record here in 2022.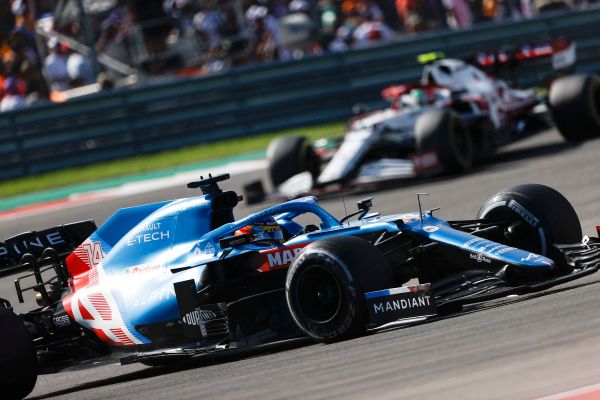 Points at COTA continue to evade Lance Stroll who has made four appearances in the US. His teammate, Sebastian Vettel, had a better outing scoring after a gap of four races. Although Vettel has scored points in only five races this year against Stroll's eight, he still holds a 10-point lead over the latter in the standings. Before 2020, Vettel had never finished a race in tenth place. Since then, he's recorded a P10 race result on five instances.
It was Mick Schumacher's maiden race at COTA and he finished two laps down in sixteenth. Coincidentally his seven-time world champion father, Michael Schumacher, also finished sixteenth in his first race in Austin in 2012.
The championship leaders (drivers' and constructors' both) after the Austin round in previous seasons have always ended up winning the title later that year. Currently, Verstappen leads the drivers' standings with a 12 point lead over Hamilton, while Mercedes are on top amongst the constructors.
Even though the United States has hosted over 70 Formula 1 races, Liberty Media continues to believe there's a lot more viewership potential in the country. If Sunday's atmosphere at COTA was anything to go by, it does seem the sport is headed in the right direction with a reported 400,000 attendees over the race weekend.
Review by Sundaram Ramaswami
Twitter/Instagram - @f1statsguru
Extra Race Stats
• Margin of victory: 1.333s
• On the winner's lap: 8
• Leaders: 2 (Verstappen-35 laps, Hamilton-21)
• Race distance covered: 1044 laps (93.2%), 5749 km
• Top speed: 343.8 km/h (Stroll)
• Pit stops: 41
• Overtakes: 19