If one carnival wasn't enough, it's time for round two, this time in Brazil for Round 19 of the world championship. After being unable to host a race for the first time since 1973, Brazil makes a much-awaited comeback to the calendar with the event now titled the 'São Paulo Grand Prix'. As the season slowly nears its end, everyone's eyes will be on the numbers considering so little separates our title rivals. This weekend's race definitely has the potential to swing it either way.
A country that is just as passionate as Mexico, Brazil is set to host its 47th Grand Prix. A majority of those races (37) have been held at the Autódromo José Carlos Pace in the neighbourhood of Interlagos. The circuit was inaugurated in 1940 but was acquainted with Formula 1 only in 1973 after the success of Brazil's first world champion, Emerson Fittipaldi. After a brief switch to Rio de Janeiro (Nelson Piquet's hometown), the event returned to Interlagos in 1990 after the emergence of Ayrton Senna, a São Paulo local.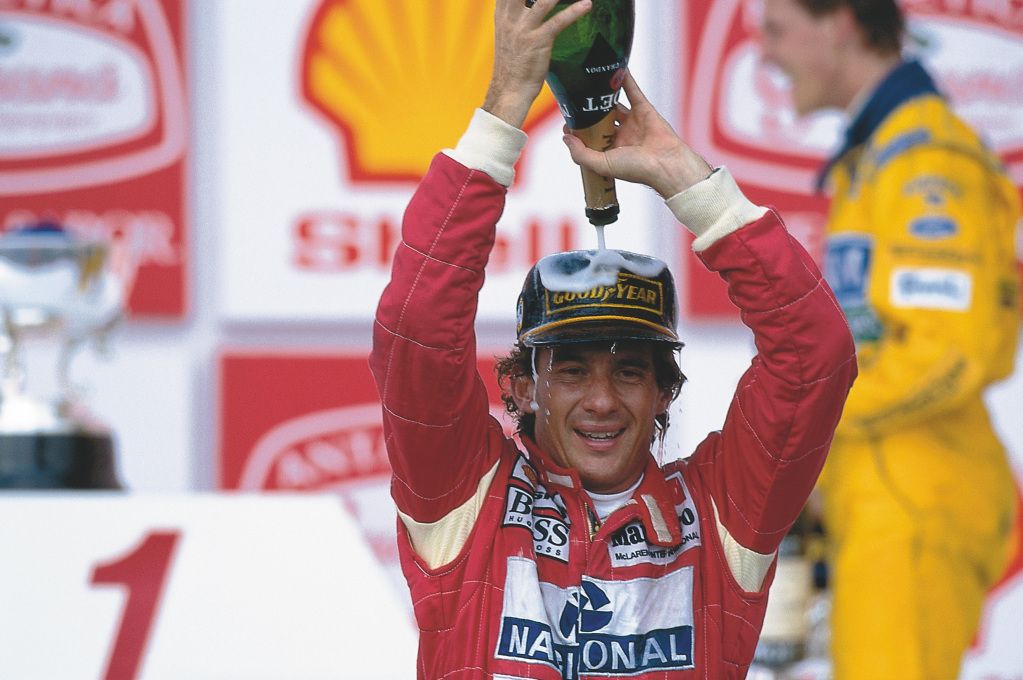 Interlagos, Sao Paulo, Brazil.26-28 March 1993.Ayrton Senna (McLaren Ford) celebrates 1st position on the podium. (Motorsport Images)
Inspired by the Roosevelt Raceway in the USA and named in honour of José Carlos Pace, the circuit is the fourth-shortest one on the calendar at 4.309km. Quite undulating in nature and one of the few anticlockwise venues of the year, its first and third sectors are run largely flat-out, which is balanced out by the snaky in-field section in sector two. It is located around 800m above sea level making it Formula 1's second-highest circuit in altitude and features one of the longest pitlanes in the sport.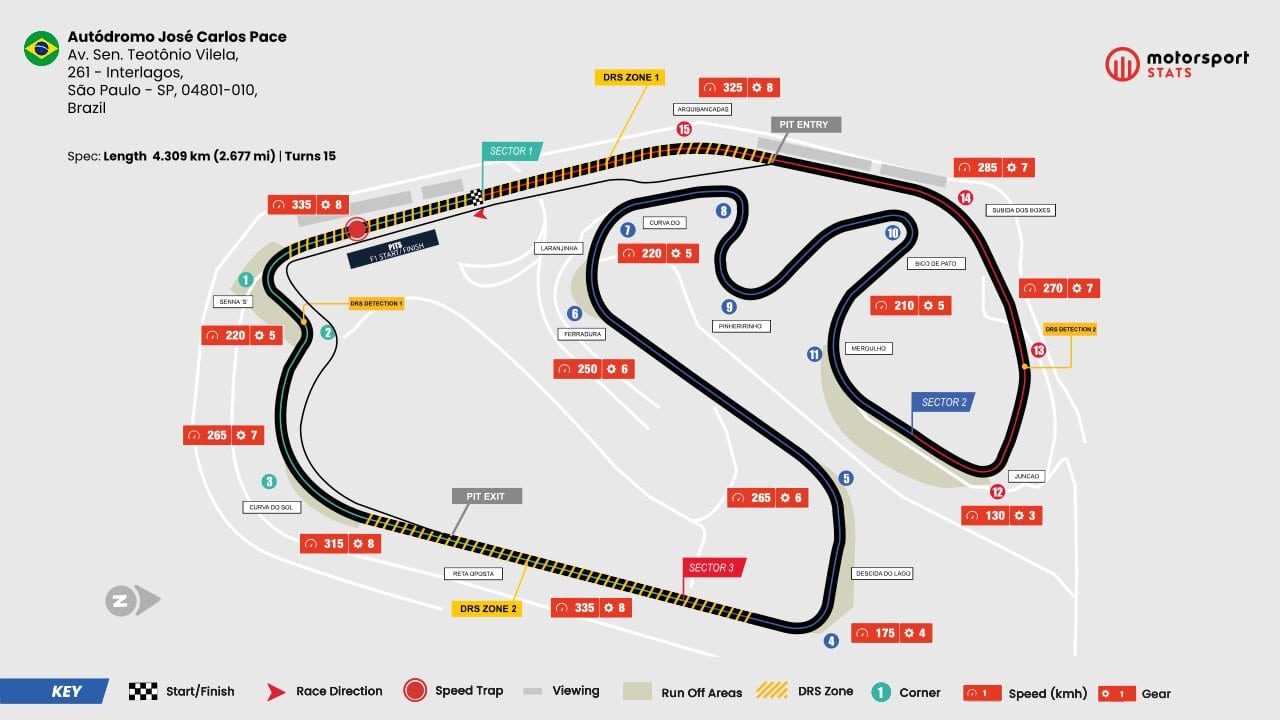 Top honours in Brazil go to the legendary pairing of Alain Prost and Ayrton Senna. Prost has six wins to his name - five of which came in Rio de Janeiro - while Senna claimed six pole positions during his time, three more than anyone else. McLaren remains the team to beat in Brazil with 12 victories and 11 pole positions across both venues. At Interlagos, the Germans proved more powerful as Michael Schumacher and Sebastian Vettel racked up four and three wins respectively. No other driver has won more than twice at this circuit. Schumacher also leads the podium charts with 10 podiums between 1992 and 2002.
Pole position in Mexico has proven costly in recent years but conversely has been quite beneficial in Brazil. Six of the last seven races in Interlagos have been won from pole. Also, every Brazilian Grand Prix since 2008 has been won from the front row. With the front-runners carrying such an advantage, it could seem the circuit provides fewer opportunities to pass, but in fact, Interlagos has one of the highest overtake percentages in the hybrid era - an average of 43 overtakes per race. That said, drivers starting further back have also shone from time to time. Giancarlo Fisichella after starting eighth in a Jordan, won the 2003 race in bizarre circumstances and was awarded the trophy only at the next race, whereas Carlos Sainz scored a podium finish in 2019 after starting from the back of the grid.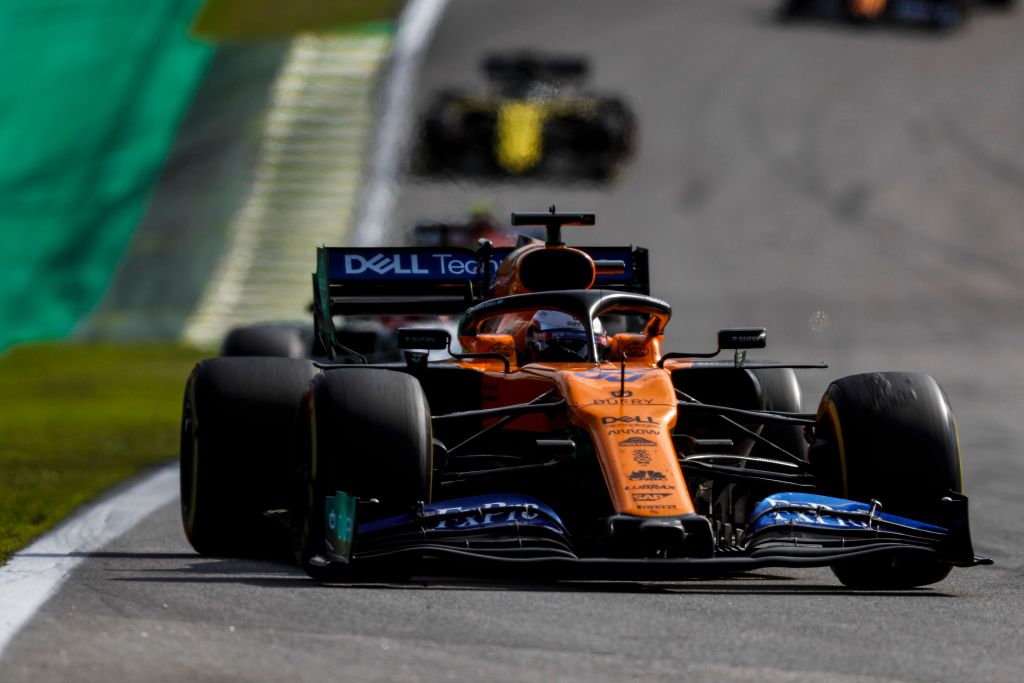 Carlos Sainz Jr., McLaren MCL34 (Motorsport Images)
The sprint format returns for the third and last time this year. Max Verstappen is yet to score points in a Grand Prix that has included sprint qualifying. He clashed with Lewis Hamilton in the previous two sprint iterations (Britain and Italy). With 29 points on offer (25 for race win, 3 for sprint and 1 for fastest lap), it's perhaps the best opportunity for Hamilton to claw his way back into the championship fight.
But it could be a tough ask for the defending champion. Interlagos is one of Hamilton's least favourite circuits in terms of numbers. In 13 appearances, he has stood on the podium just five times with two wins, while his average of 10 points per race is one of his lowest amongst all circuits. However, Mercedes do have a good record at this venue. They have a 100% scoring streak and have won here on four occasions in the hybrid era.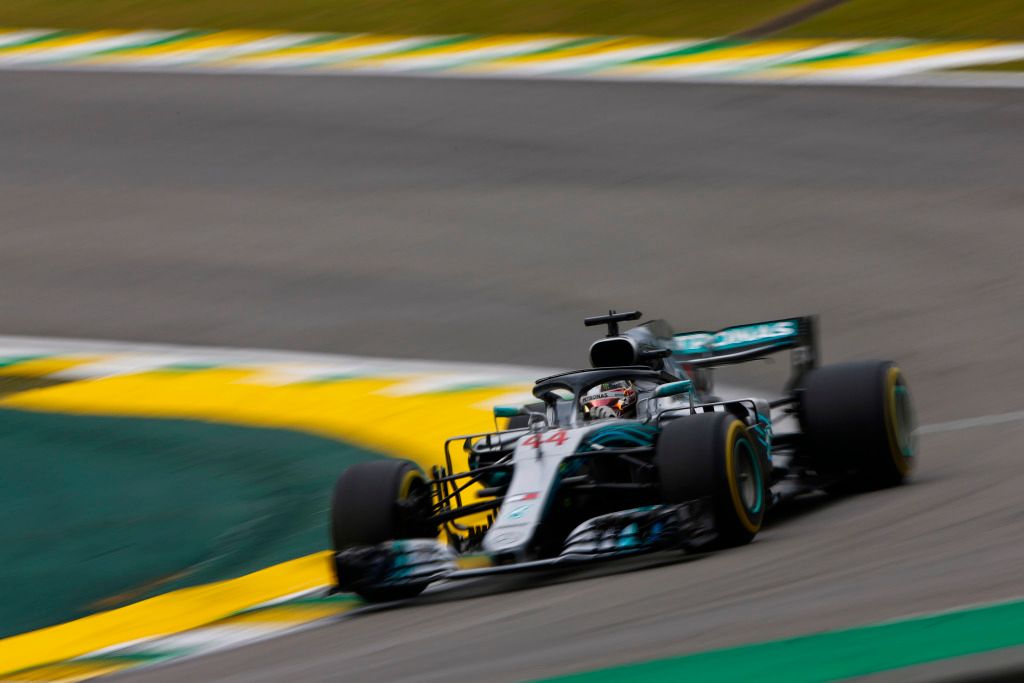 Lewis Hamilton, Mercedes AMG F1 W09 - Won in 2018 (Motorsport Images).
The favourites tag goes to the in-form Red Bull team once again this weekend. They have won five of the last eleven races here with Verstappen triumphing from pole in 2019. The Dutchman could have tasted victory once more had it not been for his late-race collision with Esteban Ocon in 2018. Nevertheless, Verstappen will be eyeing a clean sweep of races in the Americas this year after previously winning in USA and Mexico.
Eight drivers from the current grid have stood on the podium in Interlagos. Fernando Alonso tops that list with eight podiums but has surprisingly never won here. He remains the only one in the top-12 of the drivers' standings not to take a podium finish this year. Daniel Ricciardo had a torrid race last weekend and will look to bounce back with a good points haul. He is set to surpass Nico Rosberg for the second-most consecutive race starts in Formula 1 - 206. With each season comprising over 20 races, the Aussie could overhaul Lewis Hamilton's record (265) in 2024.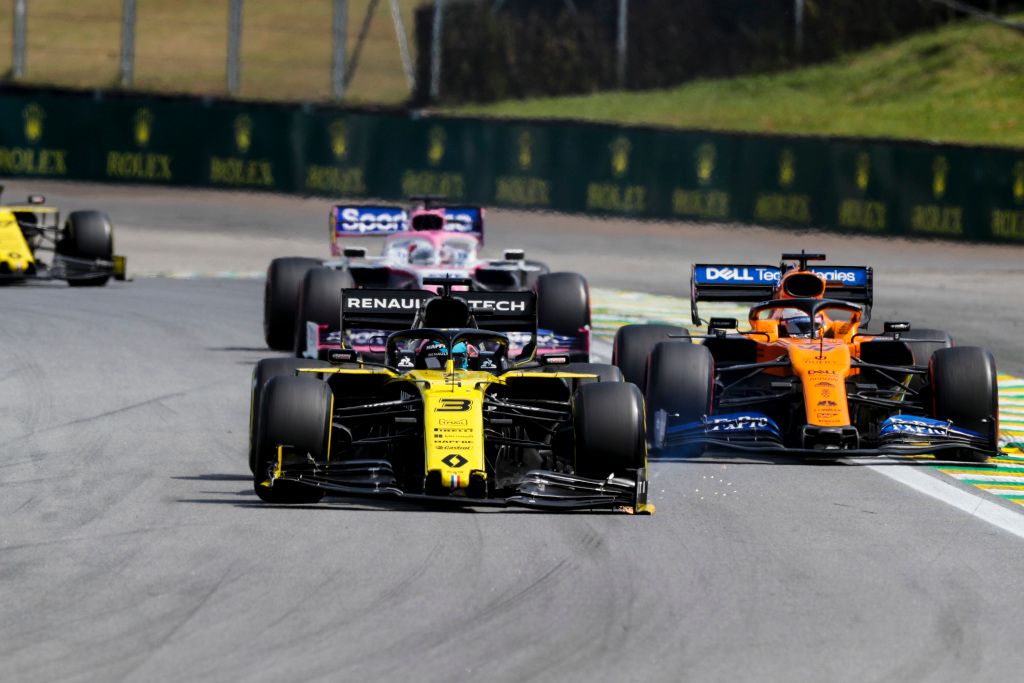 Daniel Ricciardo, Renault R.S.19 with a broken front wing, Carlos Sainz Jr., McLaren MCL34 and Sergio Perez, Racing Point RP19 (Motorsport Images)
The nation that sits third (101) in the all-time wins list, Brazil has missed the presence of a local driver for a few years now. The last Brazilian to drive in front of his home crowd was Felipe Massa in 2017, while the last one to win a race was Rubens Barrichello in Italy 2009. One of the most experienced racers, Barrichello surprisingly never stood on the top step in Brazil and unfortunately had to settle with a solitary podium in 19 home appearances.
The race in Brazil always tends to produce drama in some form or the other. Interlagos has played host to six drivers' title showdowns in the past, some of the most memorable ones being 2008 and 2012. Although the championship won't be decided this Sunday, it will nevertheless leave at an exciting juncture for the next three races.

By Sundaram Ramaswami
Twitter/Instagram - @f1statsguru