The inaugural Qatar Grand Prix threw quite a few surprises: Last-minute grid penalties, punctures without any warnings, and an old pro returning to the podium. But it wasn't all that surprising at the front with Lewis Hamilton taking yet another dominant win under lights ahead of title rival Max Verstappen. An intense race that saw many a record being broken or extended, here are all the numbers from the Qatar Grand Prix. 
By crossing the finish line first at the Losail International Circuit, Mercedes continued their streak of winning the first race at every new venue in the turbo-hybrid era. Hamilton recorded his 102nd career victory and 60th win from pole position after 57 laps. He became the first driver to win on 30 different circuits in Formula 1. The only tracks he's yet to conquer are Buddh (India), Magny-Cours (France), Valencia (Spain), Yeongam (South Korea) and Zandvoort (Netherlands). The Brit led every lap from start to finish, the first time he's done so since last year's Belgian Grand Prix, 29 races ago. It was also the first time he's won back-to-back races since Portimão-Barcelona.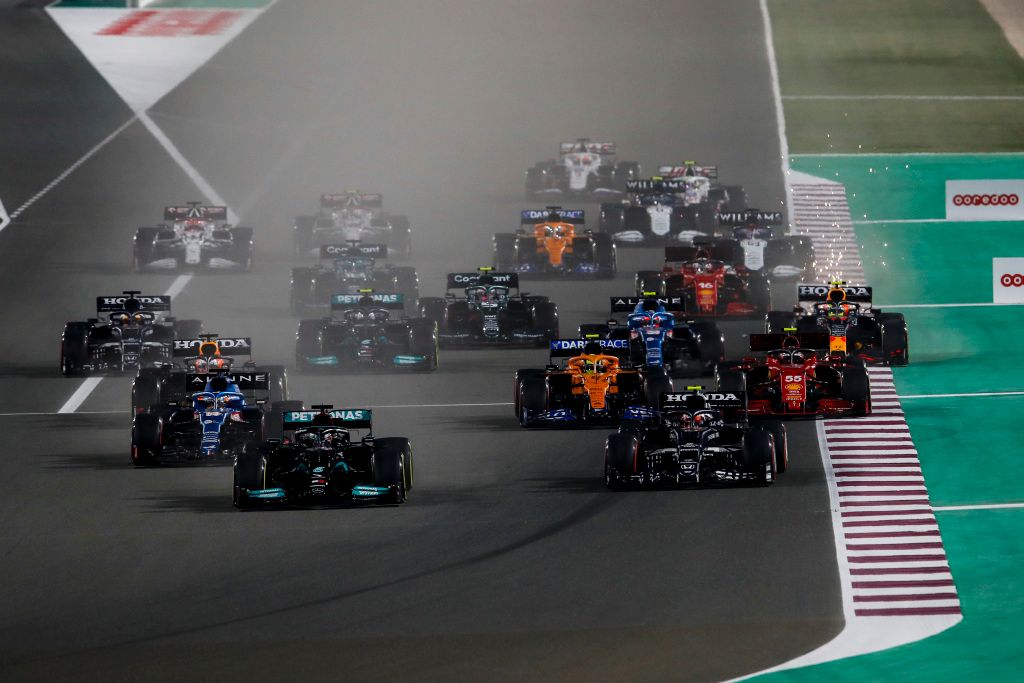 (Motorsport Images)
The defending champion has spent 228 laps in the lead this year compared to Verstappen's 620, yet is just eight points behind in the championship battle with two races left. Hamilton is also the most successful driver under lights, with 15 victories in 34 night races. His teammate, Valtteri Bottas, had a race to forget with a late grid penalty followed by a mid-race puncture which eventually forced him to retire on lap 48. Bottas had just six retirements in his previous four years with Mercedes (79 Grands Prix between 2017 and 2020) but has had four DNFs in 2021 alone. 
Max Verstappen would have hoped for a Hamilton-esque charge to victory, after dropping to seventh for a yellow flag infringement, but found no answer to his rival's pace. He came in second and took his 58th top-three result, going past Nico Rosberg on the all-time list. As a result, Red Bull became the second team after Mercedes to register 100 podiums in the hybrid era. Interestingly, 21 of those have come in 2021 alone. Verstappen has finished in the top-2 in 16 of the 20 races this year, with one P9 finish in Hungary and three other retirements. The championship leader is currently on a career-best streak of six podiums, a feat he's achieved three times earlier as well. In a championship of fine margins, the Dutchman gained an extra consolation point for the fastest lap, his first since Austria.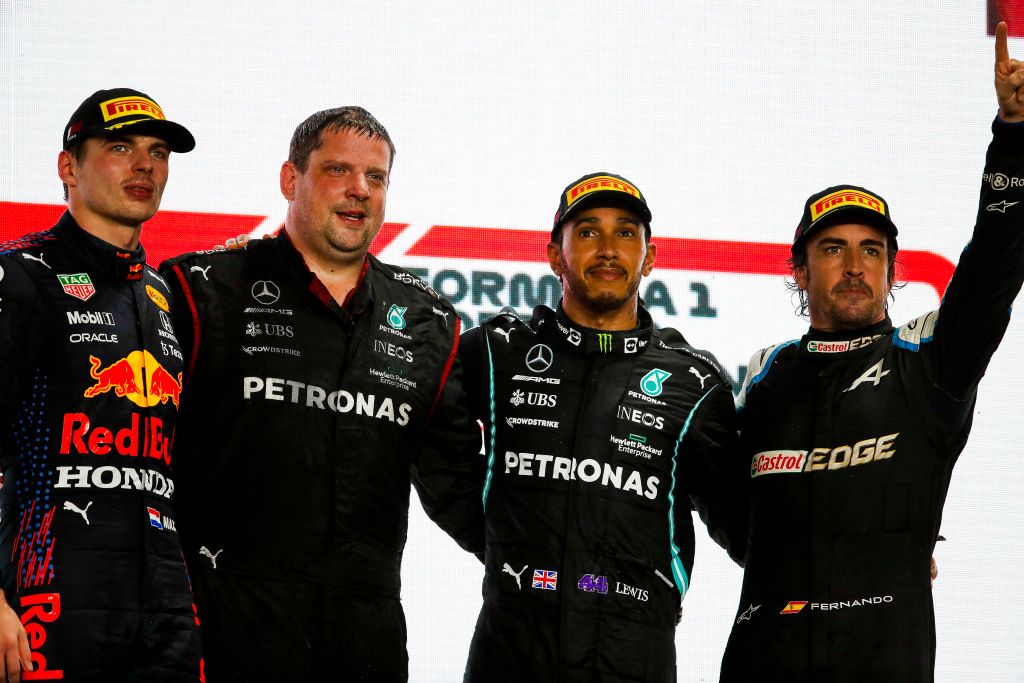 (Motorsport Images)
Sergio Perez inherited third place after Bottas' sudden puncture and seemed set for his fourth rostrum appearance in five events. But a precautionary second stop and a late-race VSC halted his charge for a podium spot. He ultimately crossed the line in P4, his fifth top-4 finish in as many races.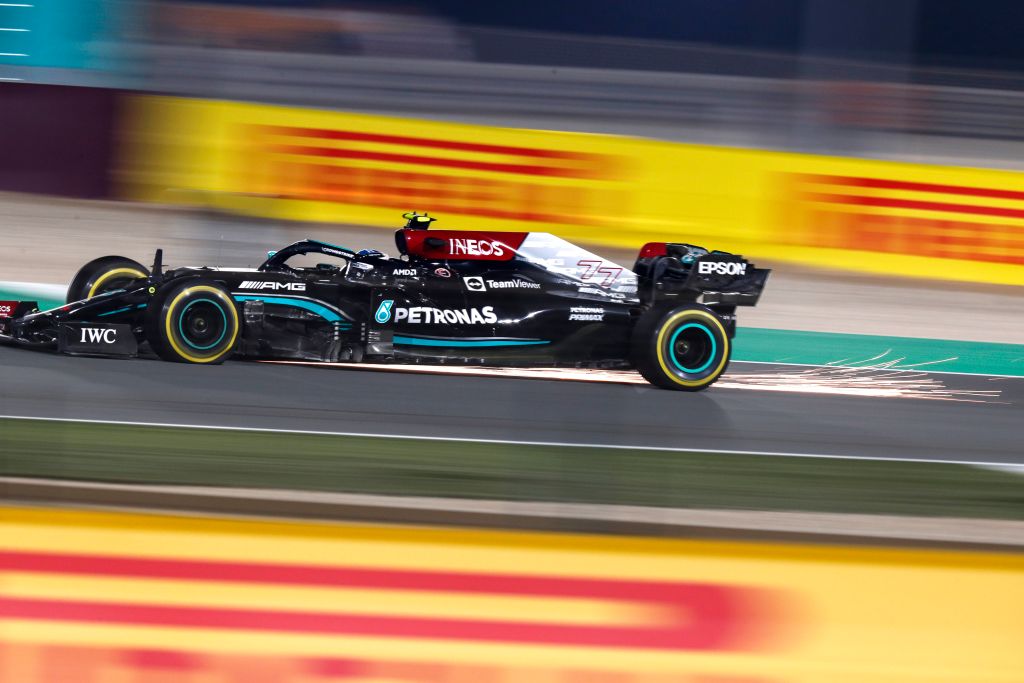 (Motorsport Images)
Fernando Alonso held his nerve to take his 98th career podium and his first since the 2014 Hungarian GP, a long wait of 2,674 days. His interval of 105 race entries between podiums is the longest for any driver in the sport. He is also just the second driver over the age of 40 to take a podium in the 2000s, after Michael Schumacher (Europe 2012). Quite interestingly, at the time of the Spaniard's last podium, Hamilton was a one-time champion while Verstappen was still racing in Formula 3.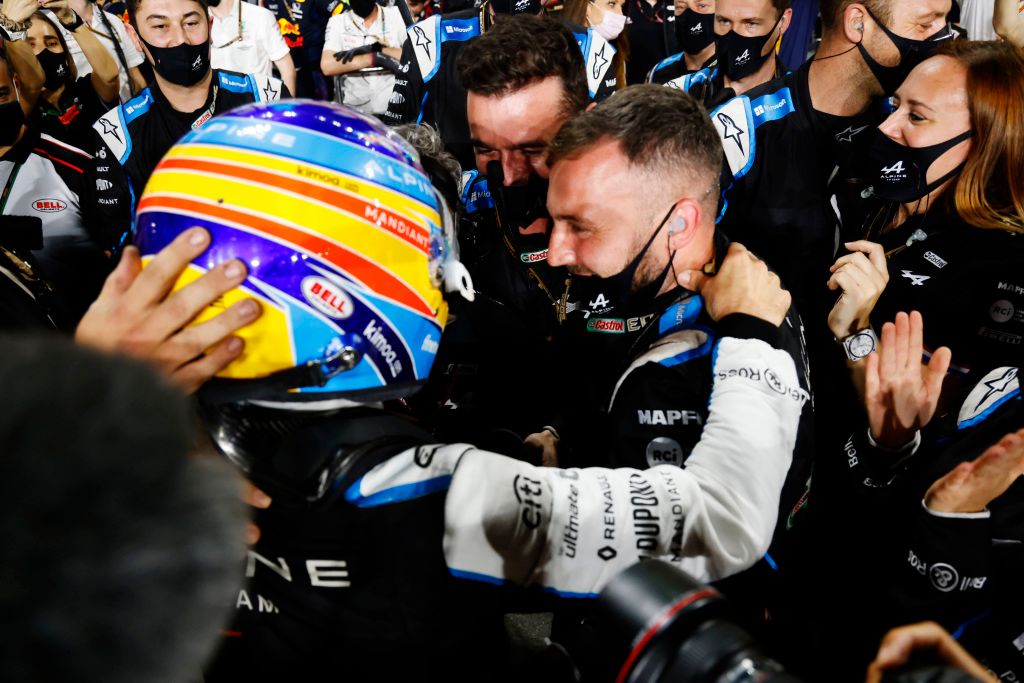 (Motorsport Images)
Esteban Ocon came in fifth, his best result since his maiden victory in Hungary.
The Enstone-based team have scored points in 18 of the 20 races this year. Alpine were level on points with AlphaTauri after the last race, but now enjoy a 25-point lead in the Constructors' table over the latter.
Carlos Sainz scored for the 13th successive time and has finished every race since last year's Russian Grand Prix, a streak of 27 races. He finished ahead of his teammate, Charles Leclerc, for just the fifth time this year. Ferrari's mega triple-header sees them going home with 47 points and the team now stand well poised to clinch third in the standings.
McLaren managed to register just four points in the last triple-header of the year, equalling Alfa Romeo's tally. Since their dream double podium six races ago in Italy, Lando Norris has collected just 21 points, while Daniel Ricciardo has taken 22.
Ricciardo hasn't scored for three straight races, the third time that's happened since his switch to Renault in 2019.
AlphaTauri were the biggest losers on Sunday. Despite starting P2 and P8, the team fell backwards in the race to finish outside the points in 11th and 13th.
After taking points in each of the first 13 races of the year, they've failed to score in three of the last seven events. Meanwhile, Lance Stroll ended the race in sixth after starting twelfth, his best result since his podium at the 2020 Sakhir GP.
The winning margin exceeded 20 seconds for the sixth time in 2021, with each of those races being won by either Verstappen or Hamilton. This season has seen 13 different drivers stand on the podium, same as 2020, 2012 and 2009. The trio of Hamilton, Verstappen and Alonso shared the rostrum for the very first time. They have a combined 336 podiums between them, the highest ever seen in Formula 1 between podium-finishers. The previous record was 331 when Hamilton, Sebastian Vettel and Kimi Raikkonen stood on the podium at the 2018 Hungarian GP.
- Sundaram Ramaswami
Twitter/Instagram - @f1statsguru