Yet another race, yet another victory for the magnificent Max Verstappen. Going by the jubilant celebrations post-race, one could be forgiven for thinking that Sergio Perez had triumphed on home soil, but in fact, he finished third as Red Bull capped off a near-perfect weekend. The race gave its fair share of records, so let's dive into all the stats and facts of the Mexico City Grand Prix.
Max Verstappen's flawless drive after jumping both Mercedes cars at the opening corner saw him cross the chequered flag first and record his 19th career win. Nine of those have come in the 2021 campaign alone, thus he joins an exclusive club of drivers featuring Nigel Mansell, Michael Schumacher, Sebastian Vettel, Lewis Hamilton and Nico Rosberg, who've achieved the feat previously. His third victory in Mexico also made him the most successful driver in the country. Verstappen's highest win tally in any one country is four, in Austria. Each of the Dutchman's three Mexican Grand Prix wins has had winning margins of over 16 seconds.
Easily in his best-ever season, Verstappen has led 569 laps this year - 400 laps more than anyone else - putting him ninth in the all-time list for laps led in a single season.
He also surpassed Ayrton Senna for the most wins in a year with a Honda-powered car. His teammate, Sergio Perez, took his third podium on the trot, the first time he's ever done so in his 11-year career. Much to the joy of the crowd in attendance, he became the first Mexican to lead a lap and stand on the podium in a home Grand Prix. It was also the first time both Red Bull drivers stood on the rostrum in three consecutive races since Abu Dhabi-USA-Brazil 2013.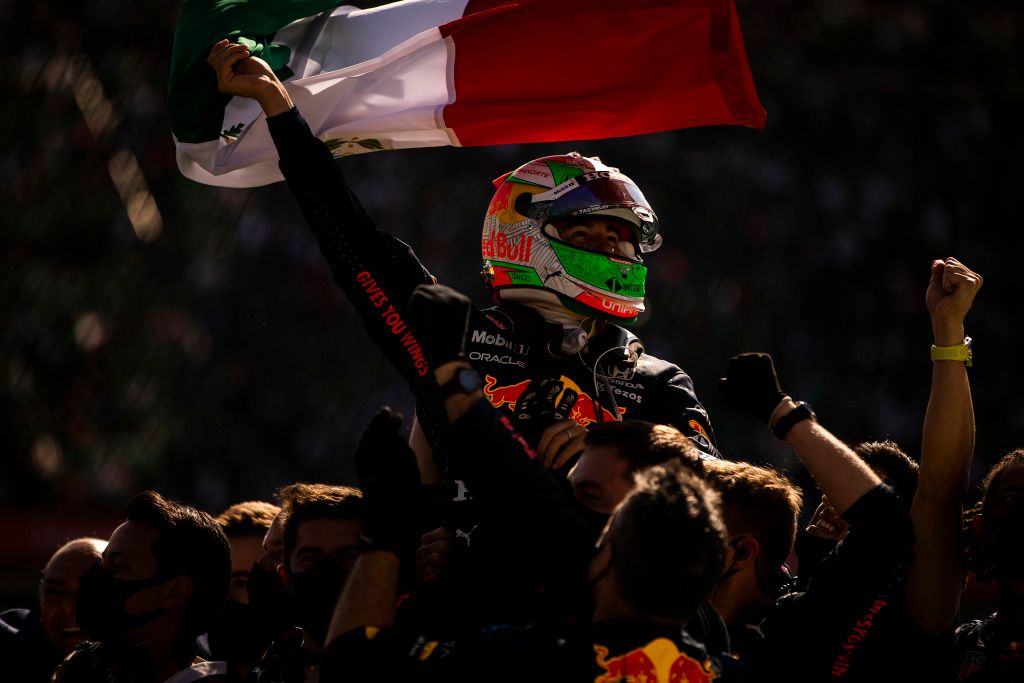 Sergio Perez, Red Bull Racing, 3rd position, celebrates with his team in Parc Ferme (Motorsport Images)
After Saturday's high, Valtteri Bottas' race came crashing down straightaway as Daniel Ricciardo's slight nudge sent the Finn spinning around the first corner. Bottas never really recovered from the incident and eventually ended the race in 15th, his worst-ever result in a Mercedes. The outgoing driver has now failed to win 13 of the 19 races he's started from pole position. His ill-luck also continued a trend of Mexican Grand Prix pole-sitters who've not won or even stood on the podium in the last four races here.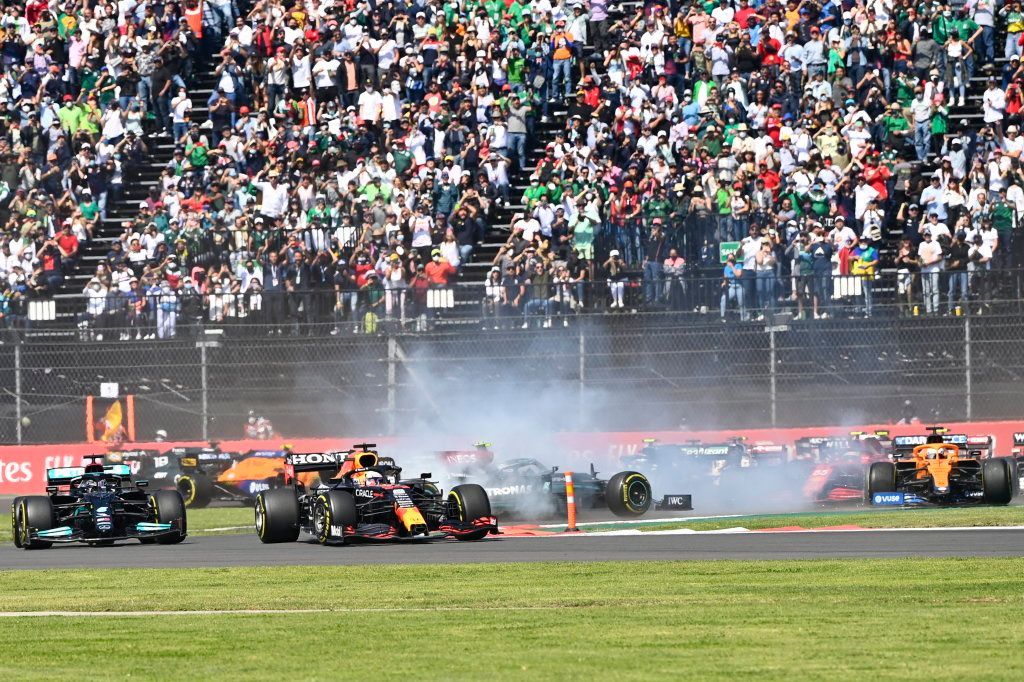 Max Verstappen, Red Bull Racing RB16B, leads Sir Lewis Hamilton, Mercedes W12, as Valtteri Bottas, Mercedes W12, spins and Daniel Ricciardo, McLaren MCL35M, runs wide at the start. (Motorsport Images)
Lewis Hamilton did a fine job holding off Perez and ultimately finishing second for the seventh time this year, the most he's ever taken in one season. The Mercedes camp certainly won't be pleased with their weekend result as it weakened their stance in both championships. Verstappen extended the gap over Hamilton to 19 points while Mercedes' lead in the constructors' standings has been heavily slashed  down to a single point now.
Carlos Sainz finally broke his points-scoring duck in Mexico by coming in P6. His fine form continues with his 11th consecutive race in the points. Both Ferrari drivers finished with points, the 13th time they've done so out of 18 races this year.
Despite causing the early kerfuffle, Daniel Ricciardo ended the race outside the points and now stands second (34) in the all-time list of consecutive race finishes. He's seen the chequered flag in every race since Styria 2020 and is only behind Lewis Hamilton (48). Lando Norris took the last point on offer in a lowly P10. Despite the podium in Italy, his average race-finish position has dipped to 8.2 in the second half of the year, from 4.5 in the first half. Mexico has always been a tough venue for the Woking-based squad. They've collected a measly six points in as many races here since 2015. Their lacklustre outing saw them relinquish third place in the Constructors' standings to Ferrari and now have a 13.5 points deficit with four races remaining.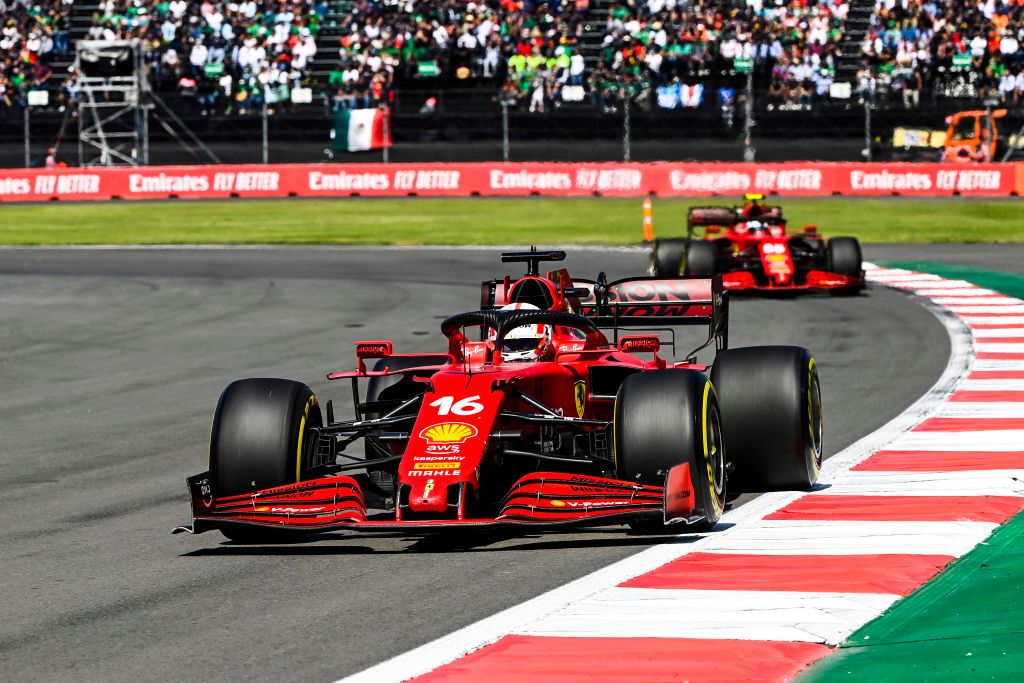 Charles Leclerc, Ferrari SF21, leads Carlos Sainz, Ferrari SF21 (Motorsport Images)
Pierre Gasly, Sunday's unsung star, ran a lonely race in fourth giving AlphaTauri their best result in Mexico in the process. The team from Faenza have now drawn level on points with Alpine for fifth in the table. Further back, Sebastian Vettel scored for the second successive race, a rarity these days. The German has taken points in every Mexican outing since 2016. 
With a P8 finish, Kimi Raikkonen took his joint-best result of 2021. His teammate, Antonio Giovinazzi endured a frustrating race finishing 11th for the third race in a row. At the back of the grid, Nikita Mazepin finished 18th, three laps behind the race winner. Surprisingly, he was a lap down on the immediate driver ahead of him, Nicholas Latifi, who finished 17th.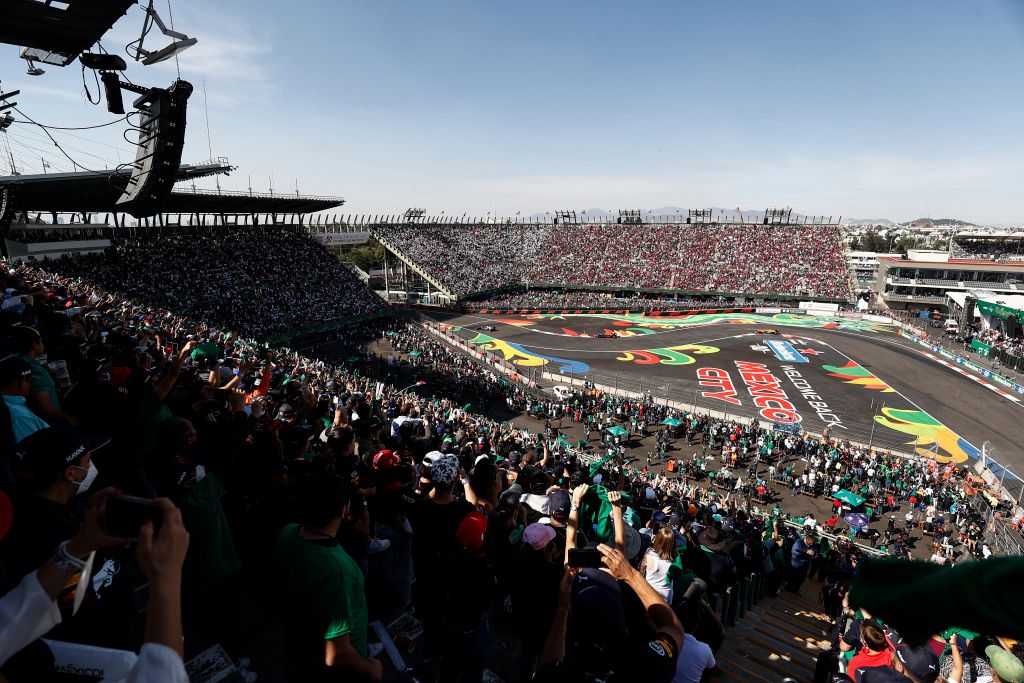 Lewis Hamilton, Mercedes W12, leads Sergio Perez, Red Bull Racing RB16B, and Lando Norris, McLaren MCL35M. (Motorsport Images)
Since it returned to the Formula 1 calendar in 2015, the Autódromo Hermanos Rodríguez has seen an average of 29 overtakes each year. On Sunday, it recorded its lowest number with just 19 overtakes over the course of 71 laps. 
EXTRA
Margin of victory: 16.555s
• Full race distance by - 5 drivers
• Leaders: 2 (Verstappen-65 laps, Pérez-6)
• Top speed: 360.8 km/h (Lance Stroll)
• Safety car periods: 1 (4 laps)
• Pit stops: 25
• Overtakes: 19
by Sundaram Ramaswami
Twitter/Instagram - @f1statsguru