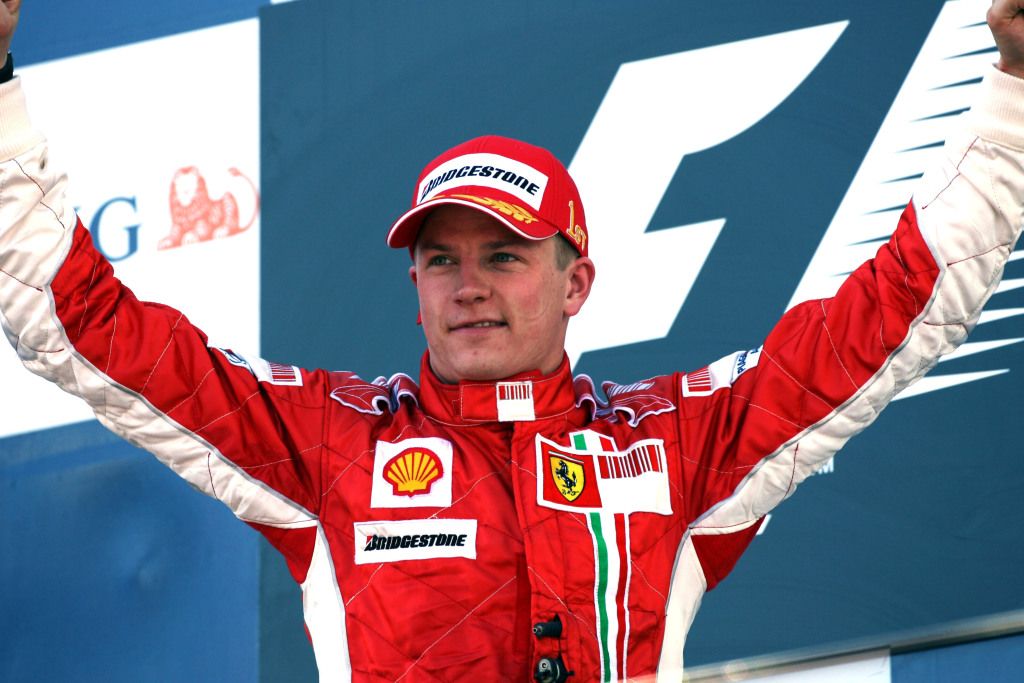 Race winner Kimi Raikkonen (FIN) Ferrari celebrates on the podium. - Motorsport Images/James Moy
Back in late 2006 Kimi Raikkonen was considered the fastest man in F1. His speed was so highly regarded that Ferrari chose him to replace the retiring Michael Schumacher for 2007. As ever a rather non-plussed Kimi didn't seem fazed at all about the considerably sized shoes he was going to have to fill.
Raikkonen's first weekend in Maranello red got off to the perfect start as he out qualified McLaren newbie, and reigning double world champion, Fernando Alonso for pole by four tenths of a second. A great launch off the grid saw Raikkonen hold onto his lead with ease on lap one and afterwards he was unchallenged to the checkered flag.
Juan Manuel Fangio and Karl Kling in the new streamlined Mercedes-Benz W196. - Motorsport Images/Mercedes
Fangio is the only man on this list to win his first race for a new team on his debut for them twice. Like Max Verstappen for Red Bull, he won his first race for Mercedes after a mid-season switch from Maserati. The 1954 French Grand Prix was also the debut for a long-awaited Mercedes-Benz car, making the win just that bit more special. Fangio and team-mate Karl Kling would finish a lap ahead of the entire field.
The second time Fangio won on his debut for a team cam under rather more controversial circumstances. The Argentine world champion had joined Ferrari ahead of his home race in 1956. The team dominated qualifying with Fangio a mighty two and a bit seconds ahead of his nearest rival. A faulty fuel pump in the race left Fangio having to swap into team-mate Luigi Musso's car.
Fangio re-joined the race in fifth place and quickly set about change down the leading bunch of Maserati cars. A quick spin after passing Jean Behra and mechanical woes for the leading three drivers left Fangio in the lead. Maserati tried to protest the win after the race, they claimed Fangio received an illegal push start after his spin while passing Behra. The protest was quickly thrown out and history was made.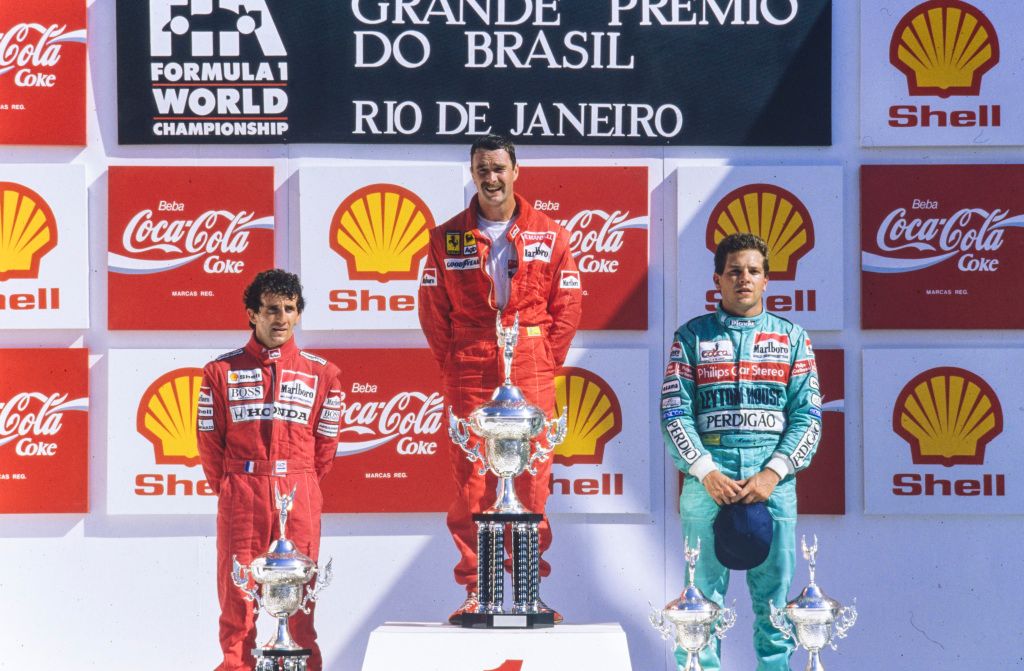 Alain Prost, Nigel Mansell, and Mauricio Gugelmin on the podium. - Motorsport Images
Mansell was the last man Enzo Ferrari ever personally chose to drive for the Scuderia. Sadly Ferrari's death in August 1988 meant he never got to see 'il leone' drive one of his cars. A tough and unreliable pre-season testing programme meant hopes for the Brazilian Grand Prix of 1989 were fairly low in Maranello. Mansell even joked he had booked an early flight home because he was so sure the car wouldn't last the race distance.
Qualifying a disappointing sixth didn't help Mansell's mood ahead of the race. However the Brit's fighting spirit shone through and he didn't give up during the race leading him to score an unlikely win at his least favourite track on the calendar. A first lap clash between Ayrton Senna and Gerhard Berger in the other Ferrari certainly helped Mansell's cause. A fantastic overtaking manoeuvre on Ricardo Patrese sealed Mansell's place in both the history books and the Tifosi's hearts.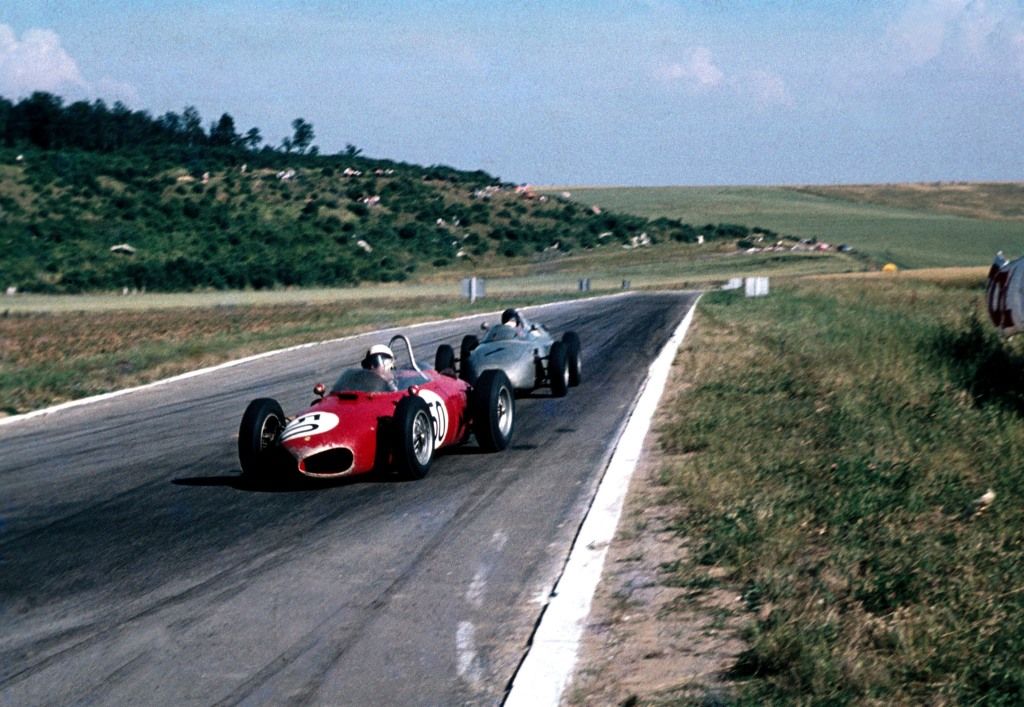 Winner, Giancarlo Baghetti(ITA) Ferrari 156, leads 2nd place Dan Gurney(USA), Porsche 718. - Motorsport Images/David Phipps
Back in 1961 Giancarlo Baghetti went one further than simply winning on his debut for a new team, he just flat out won on his F1 debut! He remains the only man in F1 history to achieve that feat and it's a record unlikely to be broken any time soon.
Baghetti only qualified in a lowly twelfth place for the French Grand Prix; unreliability up and down the field allowed him to rise up through the order at a steady rate during the race. The three works Ferraris all fell by the wayside, leaving the FISA entered Ferrari of Baghetti to take a quite remarkable win by just a tenth of a second. It was to be the only podium finish of his career.